Matthew Davey,
MHK, CSCS, CEP


Strength and Conditioning Coach

Matthew Davey comes to the Canadian Sport Centre Manitoba from Queen's University, where he spent a little more than a year as the Assistant Coach for Strength and Conditioning. During his time at Queen's, Matthew assisted the head coach in day-to-day training sessions, conducted on-field and in-gym sessions, assisted in quarterly varsity team testing and created testing databases. Matthew worked with more than 13 varsity teams, both male and female, and assisted with one of the country's largest internship program in strength and conditioning. In his role, he worked closely with the on-staff physiotherapists, athletic therapists and doctors in rehabilitation. Matthew's experience at Queen's University brings great value to CSCM.

Previous to his work at Queen's, Matthew worked as the Head Strength and Conditioning Coach and Manager for the Athletic Conditioning Center (Strength Tek) in Ottawa, Ontario. There he worked with the area's top athletes, ranging from the NHL, OHL, NCAA, CFL to CIS. He also worked with injured athletes as a trusted rehab specialist based on physiotherapy referrals.

During the summer of 2013, he spent time interning with the Canadian Sports Institute Pacific in Whistler, British Columbia in preparation for the Sochi Olympics. He also worked with national ski and snowboard programs and provincial skeleton and luge athletes.

Along with his passion for sport and coaching, Matthew actively pursued his education, earning a master's degree from the University of Ottawa in Human Kinetics. He is certified through the National Strength and Conditioning Association as a Certified Strength and Conditioning Specialist, and  is also certified through the Canadian Society of Exercise Physiology as a Certified Exercise Physiologist.
Matthew's training philosophy is that athletes must first be able to move efficiently before they can move forcefully.
Blogs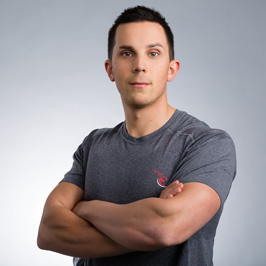 Tuesday, October, 25th, 2016
Matthew Davey is CSCM's newest strength and conditioning coach. In this Q&A, he shares why he loves his job, and what it takes to become […]
---
News
There are no news posts for this person at this time.
Press Releases
There are no press releases for this author at this time.