Bailey Bram first started playing hockey games at four, wanting to be just like her two older brothers. Growing up, Bailey led most of her teams in scoring, and played for team Manitoba throughout high school in Winnipeg. Graduating from Balmoral Hall in 2008, Bailey went on to attend Mercyhurst University, playing women's hockey games for the Lakers. Her first year, Bailey led the team as well as the league's freshmen in scoring, and was named College Hockey America's Rookie of the Year.
Since Bailey's dominance as a young female hockey player, she has gone on to be successful as a member of many Canadian National teams. Bailey played her first World Championship as a U18 female hockey player in 2008, where Team Canada won silver. During the years Bailey was eligible as an U22 player, she continued to attend tournaments with Canada, finally moving on to represent the Senior National Team starting in 2012, when the women's hockey team won gold in the 2012 Women's World Championships. Currently, Bailey plays for the Calgary Inferno with fellow Manitoban and senior national team member Brigette Lacquette.

Despite her many achievements on the ice, the Ste. Anne native is most proud of completing her college education, becoming the first in her family to do so. As for hockey, Bailey has been competing for an Olympic spot harder than ever for the last four years, after being one of the last three players cut for the Sochi 2014 Olympic team. 
Bailey was named to Canada's Olympic hockey team in December 2017, and will make her Olympic debut in PyeongChang, fulfilling her dream of representing Canada at the hockey's biggest tournament.
Nickname: Bailes
Something you didn't know about Bailey: "I'm legally blind in my left eye."
[bs_row class="row"]
[bs_col class="col-sm-6″]

@baileybram17
[/bs_col]
[bs_col class="col-sm-6″]

@baileybram17
[/bs_col]
[/bs_row]
In Action
[bs_row class="row"]
[bs_col class="col-sm-4″]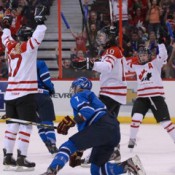 [/bs_col]
[bs_col class="col-sm-4″]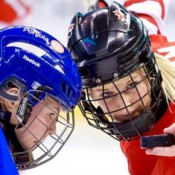 [/bs_col]
[bs_col class="col-sm-4″]
[/bs_col]
[/bs_row]
You can help our sport science experts ensure that Manitoba's high performance champions are ready for optimal performance. Athletes deserve to worry less about their finances and focus more on their performance