Sports: Skeleton
Cassie Elise Hawrysh is a Canadian skeleton racer who broke onto the international sliding scene in 2011, and was named the alternate sled for the 2014 Winter Olympic Games in Sochi, Russia. With two World Cup fourth place finishes and a team gold, this 2014 Canadian National Champion and overall 2015 ICC Bronze medalist is only just getting started.
Born and raised in Brandon, Manitoba, Cassie began as a volleyball player and multi-event track and field athlete – but discovered skeleton was her true calling in 2009. In the off-season, Cassie splits her training time between Calgary, AB and Phoenix, AZ and enjoys sharing her experiences and passion through motivational speaking. In-season, she travels the world proudly representing the maple leaf, racing head-first at speeds reaching 140km/h!
Hometown: Brandon, MB
In Action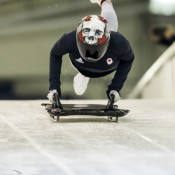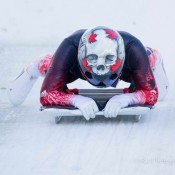 Results
There are no results for this athlete at this time.
News
Cassie Hawrysh urges girls and women to love the skin they're in
Saturday, June, 18th, 2016
GLOBAL NEWS MORNING CALGARY (June 18) Team Canada skeleton racer Cassie Hawrysh joins Global Calgary with details on how to build a strong relationship with your body.
---
Morning News – Cassie Hawrysh
Tuesday, November, 26th, 2013
GLOBAL NEWS CALGARY (Nov 26) Team Canada Skeleton Racer Cassie Hawrysh joins Global Calgary with details on the revamped World Cup event in Calgary.
---
Brandon skeleton racer Cassie Hawrysh on the fast track
Thursday, November, 7th, 2013
WINNIPEG SUN (Nov 7) Hawrysh, a personable 29-year-old from Brandon, is tantalizingly close to qualifying for Sochi 2014.
---
Blogs
There are no blog posts for this author at this time.
Press Releases
There are no press releases for this author at this time.