Chantal Van Landeghem began swimming at four years old, and never looked back. Chantal went to high school at Vincent Massey, and started competing at a national level in her teens as a Sports School athlete. At 18, she was on the brink of competing at the London 2012 Olympics, but very narrowly missed qualifying. The next year, Chantal placed in the top 10 in three different events at the FINA World Championships, and has kept climbing since. Today, though she is only in her early 20s, Chantal has made a name for herself on the international stage – most notably winning two gold medals on the opening night at the 2015 Pan Am Games in Toronto, an event she says has been the highlight of her career thus far.
"It was such an amazing experience representing Canada at such a high calibre event."
While she currently resides in Athens, GA, Chantal is Winnipeg born and raised. For as long as she can remember, she has loved being in the water, a passion which led her to move south of the border to continue competing while pursuing an education. Currently, Chantal keeps busy balancing training and studying psychology at the University of Georgia, where she will graduate in the spring of 2017.
2016 Rio Olympic Games
Being selected to the Rio 2016 team was redemption for Chantal, but she didn't go to be a participant. Chantal became part of history as she and her 4x100m freestyle relay team claimed bronze on the first night of the Olympics, winning Canada's first medal of the games, and breaking a Canadian record in the heats and again in the final. Her team's bronze medal began what would be a banner year for Canadian female swimmers at the Olympics. Chantal's bronze medal was the first Olympic medal won by a Manitoban in swimming.
"I think we surprised a lot of people, but we didn't surprise ourselves,"
Results:
Won the bronze medal 4x100m freestyle relay
Finished fifth in the 4x100m medley relay
Qualified for the 50m freestyle and 100m freestyle semifinals
What she loves most about swimming: The thrill of competition and the lifelong friendships she has made.
Hometown: Winnipeg, Manitoba
[bs_row class="row"]
[bs_col class="col-sm-6″]

@Chantal_Van
[/bs_col]
[bs_col class="col-sm-6″]

@Chantal_Van
[/bs_col]
[/bs_row]
In Action
[bs_row class="row"]
[bs_col class="col-sm-4 in-action-img"]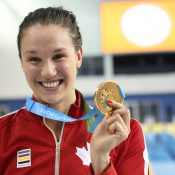 [/bs_col]
[bs_col class="col-sm-4 in-action-img"]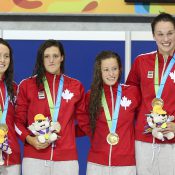 [/bs_col]
[/bs_row]
[bs_row class="row"]
[bs_col class="col-sm-4 in-action-img"]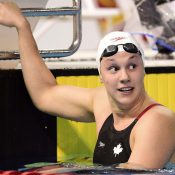 [/bs_col]
[bs_col class="col-sm-4 in-action-img"]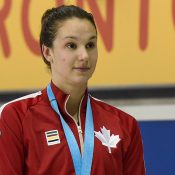 [/bs_col]
[bs_col class="col-sm-4 in-action-img"]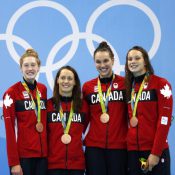 [/bs_col]
[/bs_row]
You can help our sport science experts ensure that Manitoba's high performance champions are ready for optimal performance. Athletes deserve to worry less about their finances and focus more on their performance