Des Manitobains à PyeongChang
Les Manitobains à PyeongChang
Jeux Paralympiques d'Hiver de 2018
Cérémonies d'ouverture : vendredi 9 mars     Cérémonies de clôture : dimanche 18 mars
---
Curling en fauteuil roulant
Équipe/Calendrier |  Classements
---
Dennis Thiessen, curling en fauteuil roulant

Lieu de naissance : Sanford, Manitoba
Âge : 56 ans  |  Lire sa bio
Expérience olympique : Sochi 2014, médaille d'or
Dennis Thiessen de Sandford est triple champion national, champion du monde et médaillé d'or paralympique au curling en fauteuil roulant. Dennis fut initié à ce sport en 2005 par un ami. La carrière de Dennis a commencé à prendre de l'ampleur en 2008 lorsqu'il a remporté sa première médaille de bronze aux épreuves nationales canadiennes. Après avoir gagné ses premiers championnats nationaux avec l'équipe du Manitoba en 2011, Dennis fut repêché par Équipe Canada.
Avec Équipe Canada, Dennis fut vainqueur aux championnats du monde de 2013 et il a décroché une médaille d'or à ses premiers Jeux paralympiques en 2014, à Sochi. Champion paralympique en titre, Dennis Thiessen vise à remporter une autre médaille d'or à Pyeongchang.
« Je suis vraiment heureux de participer aux Paralympiques pour une seconde fois. Je me sens encore plus enthousiaste que je l'étais pour Sochi. »
---
Jamie Anseeuw, wheelchair curling

Hometown:  Oak Bluff, Man.
Age: 59  |  Read his bio
Jamie Anseeuw began competing in wheelchair curling when he was recruited by Dennis Thiessen in 2014 to curl for Team Manitoba. Jamie says wheelchair curling is a great outlet for his competitive side, and has quicky risen through the ranks in Canada throughout the last four years. Now a two-time national champion, Jamie will make his Paralympic debut in PyeongChang as Team Canada's alternate, where he hopes to help Canada win its fourth consecutive Paralympic gold.
"I live for high-level competition. To be able to combine that thrill with representing my country while doing it is truly an honour."
---
Did you know?
Canada is the only nation to have ever won gold in wheelchair curling at the Paralympic Games (Turin 2006, Vancouver 2010, Sochi 2014).
---
Sledge Hockey
Roster | Schedule
---
Bryan Sholomicki, sledge hockey

Hometown:  Winnipeg, Man.
Resides: Toronto, Ont.
Age: 37
Bryan Sholomicki was involved in a motorcycle accident in 2009, leaving him with an amputated leg and third-degree burns over 60% of his body. After a long rehabilitation process, Sholomicki was eager to try sledge hockey, which he did for the first time in 2012. The Winnipeg native made his debut with Canada's senior national team in 2015, and was named an alternate captain the following season. Currently living and training in Toronto, Ontario, Sholomicki will make his Paralympic debut at the 2018 Paralympic Games.
Bryan wears jersey number 20.
---
Tyrone Henry, sledge hockey

Birthplace:  Winnipeg, Man.
Resides: Ottawa, Ont.
Age: 24
---
Snowboard
Schedule
---
John Leslie, men's snowboard

Birthplace: Winnipeg, Man.
Hometown:  Arnprior, ON
Age: 25
Previous Olympic Experience: Sochi 2014
John Leslie will compete in the Men's Snowboard Cross SB-LL2 and Men's Banked Slalom SB-LL2 events.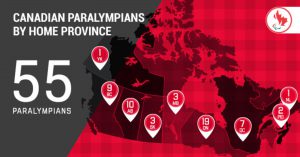 ---
2018 Winter Olympic Games
---
Curling
---
Kaitlyn Lawes, curling – mixed doubles

Hometown: Winnipeg, Man.
Age: 29 | Read her bio
Previous Olympic Experience: Sochi 2014, gold medal
Kaitlyn Lawes a curler from Winnipeg, MB, and third on Team Jennifer Jones. Curling from the age of four, Kaitlyn says her family's passion for the sport naturally sparked her own. Kaitlyn says one of her biggest accomplishments was winning the Olympic trials in Winnipeg. "Winning in our home city in front of friends and family is something I will never forget." Also on her list of favourite moments was winning an Olympic Gold medal at the 2014 Sochi Olympics.
Lawes and Winnipeg-born John Morris partnered up just weeks before the Mixed Double Olympic Trials in January, and pulled off a dramatic win against Val Sweeting and Brad Gushue to become Team Canada's mixed double Olympic duo. Both Olympic gold medallists in four-player curling, Lawes and Morris bring a wealth of experience to the ice and have high expectations going into the inaugural event at the PyeongChang Olympic Games.
Quote: « To go once is a huge honour. I'm just so thrilled to have this opportunity again. (Global News) »
Results: Gold medal
---
Men's Hockey
Results: 2-0-1 in round-robin, quarterfinal qualifier
---
Chay Genoway, men's hockey

Hometown: Morden, Man.
Age: 31 | Read his bio
Position: Defence, #5
Chad Genoway is a defenceman from Morden, MB. A graduate of the University of North Dakota, Genoway's professional hockey career has consisted of four seasons in the AHL (Houston Aeros, Hershey Bears), and three seasons in the KHL, where he currently plays for Lada Togliatti.
Internationally, Chad Genoway has represented Canada at the Spengler Cup, the Deutschland cup, and in preparation for the 2018 Olympic Games. The 31-year-old Morden native was named to Canada's Olympic men's hockey team in January, and will play at his first Olympic Games in PyeongChang.
---
Quinton Howden, men's hockey

Hometown: Oakbank, Man.
Age: 26 | Read his bio
Position: Forward, #16
Originally drafted in the first round to the Florida Panthers in 2010, Howden has played parts of four seasons in the NHL. Howden has spent most of his professional career with the San Antonio Rampage, Florida's affiliate team. In the 2016-2017 season Quinton played for the Manitoba Moose, playing for the Winnipeg Jets as a free agent a handful of times throughout the year. Since leaving the Moose in 2017, Howden has been playing for the KHL's Dinamo Minsk.
A two-time member of Team Canada at the World Junior Hockey Championships (2011 and 2012), Quinton is no stranger to wearing the maple leaf. In January, the 26-year-old was selected to Canada's Olympic men's hockey team, and will make his Olympic debut in PyeongChang at the 2018 Olympic Winter Games.
Quote: « Never in a million years thought something like this would happen. Always dreamed of it obviously, but for it to happen I still can't even believe it, to be honest with you. (Winnipeg Sun)"
---
Women's Hockey
Results:  qualified for final
---
 Bailey Bram, women's hockey

Hometown: Ste. Anne, Man.
Age: 27 | Read her bio
Position: Forward, #17
One of several dominant female players from Ste. Anne, MB, Bram is a scoring forward. Playing with Canada's female U18, U22 and Senior teams, Bailey has been working towards an Olympic Games since she began playing hockey at four years old.
Named to Canada's centralization roster for the 2014 Olympic Games, Bailey came heartbreakingly close to being part of Canada's gold medal winning team in Sochi. Four years of perseverance later, she's achieved her dream: Bailey Bram will make her Olympic debut in PyeongChang on February 11, 2018.
Quote: "I have been dreaming of this experience since I was a little girl so I am so excited to get there, experience it and take it all in—and hopefully come back with a Gold medal around my neck!«
---
Jocelyne Larocque, women's hockey

Hometown: Ste. Anne, Man.
Age: 29 | Read her bio
Position: Defence, #3
Previous Olympic Experience: Sochi 2014 (gold)
Jocelyne Larocque is a defenceman with Team Canada and has been playing with the Canadian National Team since 2009. Larocque has six World Championship medals with Canada, as well as an Olympic gold medal from the 2014 Sochi Olympic Games.
The Brampton Thunder captain and Ste. Anne native will likely be one of Canada's top blueliners in PyeongChang, and has been named one of the team's alternate captains. Larocque will be defending her Olympic gold medal alongside Manitoban teammates Brigette Lacquette and Bailey Bram.
---
Brigette Lacquette, women's hockey
Hometown: Cote First Nation / Mallard, Man.
Age: 25 | Read her bio
Position: Defence, #4
Brigette Lacquette is a defenceman from Cote First Nation and Mallard, MB. Following in the footsteps of older sister Tara, Brigette began playing hockey at a young age. Brigette plays for the Calgary Inferno and for the Canadian senior national team. Brigette made her senior national team debut with Canada in 2015, and has won medals with Canada at both the 2015 and 2016 World Championships.
25-year-old Lacquette was born in Dauphin and was named to Canada's Olympic Team in December 2017, after being cut from the Sochi 2014 roster. She is the first ever First Nations woman to be named to Canada's Olympic hockey team, and will compete at her first Olympic Games in PyeongChang.
---
Speed Skating

---
Heather McLean, speed skating
Hometown: Winnipeg, Man.
Age: 26 | Read her bio
Events: Women's 1000m, Women's 500m
Heather McLean is a long track sprint speed skater from Winnipeg, MB. A multiple World Cup medal winner and Canadian champion, Heahter began skating at three years old, and fell in love with the sport immediately. Heather represented Manitoba at the 2011 Canada Winter Games, winning gold in the 100m.
McLean turned 25 in January 2018 during the Long Track Team Selections, where she earned her ticket to the Olympic Games with Canada's speed skating team. Heather was officially named to Speed Skating Canada's team on January 10 along with 18 other athletes. McLean will compete at the 2018 PyeongChang Olympic Games in the Women's 500m and the Women's 1000m in her Olympic debut
Results:
1000m: 25th
500m: 14th
---
Manitoba Connected Olympians
---
John Morris, curling – mixed doubles

Hometown: Canmore, Alta. / Ottawa, Ont.
Born: Winnipeg, Man.
Age: 31
Previous Olympic Experience: Vancouver 2010 (gold medal, four-player)
Results: gold medal
---
Eric Radford, figure skating

Hometown: Red Lake, Ont.
Born: Winnipeg, Man.
Age: 33
Events: pairs, team
Previous Olympic Experience: Sochi 2014 (silver medal, team)
Results:
Team: gold medal
Pairs: bronze medal
---
Manitoba connected athletes competing for other countries:
Alex Plante, Brandon Man.

men's hockey, South Korea
Venla Hovi, Manitoba Bison
---
The Team Behind the Team
More than ever before, reaching the extremes of human performance requires that Olympic and Paralympic athletes have a team of experts supporting them. There are a number of support team members – coaches, sports science and sport medicine staff, officials and mission staff – with a Manitoban connection who are headed to PyeongChang. These folks play an essential role and deserve to be recognized.
Dwayne Gylywoychuk – assistant coach, women's hockey

 

Reece Williamson-Derraugh – skate technician, speek skating
Jeff Stoughton – head coach, mixed doubles curling
Anyone we've missed? Please let us know at media@cscm.ca.
---
Last updated: Feb 19, 2018 at 5:45 pm
---