CSCM works with extraordinary young people who have the potential to become not only national and provincial sports heroes, but also inspirational leaders, social advocates and mentors for future generations.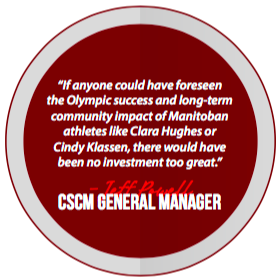 The Centre's world-class sport science team provides physiology, biomechanics, strength and conditioning, nutrition and mental health services that complement the technical training athletes receive from their coaches. The work we do is athlete-based, coach-led and expert-resourced.
The support we receive from our sponsors is critical in the sustainability of our service offering and to the overall success of our local athletes. Your sponsorship to the Canadian Sport Centre Manitoba directly helps to ensure that our elite athletes receive the highest level of coaching and training, nutrition, equipment, sport science, sport medicine and more, all of which contributes to their success. It is becoming increasingly evident how sport science contributions are a necessity to reach the highest levels of human performance.
Join the journey of Manitoba's elite athletes today.
Canadian Sport Centre Manitoba is a Registered Canadian Amateur Athletics Association #88853 5432 RR0001.
CSCM Annual Fund DONATIONS
If you would like to donate to the CSCM Annual Fund, please contact Doreen at doreen@cscm.ca for further instructions.
Our online donation platform is not currently available, but will be back soon.
For inquiries and information, please contact:
Jeff Powell | Executive Director


jeff@cscm.ca


204.890.2742