The Sports & Arts (S&A) Program at the Canadian Sport Centre Manitoba was created in 2001 in partnership with the Pembina Trails School Division to provide flexibility and support for high performance athletes and artists who wish to pursue their sport and art goals, as well as maintain a high standard in their academics.
S&A is offered through Vincent Massey Collegiate and provides flexible timetables, individualized programs, performance contracts, teacher advisor programs, French immersion, an advanced placement program and honours courses.

Click here to access the 2019/20 Application Information Sheet
Click here to

fill the Sports & Arts Program 2019/20 online application
Click here to

fill the Athlete Assessment & Ranking
Who can apply?
An individual sport athlete entering into grade 9, 10, 11 or 12

athletes of team sports, for example basketball or volleyball, are not eligible

OR an artist entering into grade 9, 10, 11 or 12

for example a dancer or actor
Please note that entry into grade 9 is limited to French Immersion. Our school division will not be allowing grade 9's out of division.
Eligible Applicants are:
Those who have maintained an average grade of over 75% in the 2017/18 academic year and the 2018/19 year, to date
Preference will be given to those who:

train 20 or more hours per week
train during school hours
anticipate missing over 10 school days due to competition/performance
Dates of Note
Orientation for applicants & parents/guardians | February 21, 2019
6:30 pm | Vincent Massey Collegiate Band Room
Application deadline | March 8, 2019
Applicants informed of decision | prior to March 31, 2019
Appeals deadline | April 5, 2019
Appeals decisions | prior to April 13, 2019
What does the program offer?
Teachers. The Sports & Arts Program is privileged to offer top rated teachers. These knowledgeable and experienced professionals share a passion for the program and are dedicated to supporting you in your sport and academic goals.
Teacher Advisor. Essential to the Sport & Arts Program is the teacher advisor. The teacher advisor acts as the student's advocate, makes necessary arrangements regarding homework and assignments when travelling, and acts as the liaison between teachers and the parents and student.
Academic Support. Maintaining your studies while away training or competing is essential. Vincent Massey Collegiate is equipped with an inventory of laptop computers so that academic support will always be available to you. If necessary, you can also use our Tutorial Support Program.
Additional Benefits
Once accepted into the Sports & Arts Program, you will have an individually constructed timetable that keeps your training schedule in mind. Most student-athletes attend classes either in the morning or afternoon. Negotiate with your coach, teacher advisor and parents to plan the best schedule for you. If you maintain a good standing in your courses and within your sport, you will enjoy the many benefits of the program during your time at Vincent Massey Collegiate.
Some of the benefits include:
A fitness and weight room facility available within the school.
A credit course "Advanced Sport: Principles and Applications" offered specifically to elite athletes.
An annual parent workshop to provide information on various topics with guest speakers who are experts in their fields.
Informal gatherings in order for students to socialize and support each other.
---
Notable Sports & Arts Program graduates include:
Ethan McClymont – Buenos Aires 2018 Youth Olympic Games (taekwondo 73kg)
Leah Kirchmann  – Rio 2016 Olympic Games (cycling)
Heather McLean – PyeongChang 2018 Olympic Games (speed skating)
Tyler Mislawchuk – Rio 2016 Olympic Games (triathlon)
Nicole Sifuentes – London 2012, Rio 2016 Olympic Games (athletics)
Chantal Van Landeghem – Rio 2016 Olympic Games medallist (swimming)
Read their testimonials & those of other alumni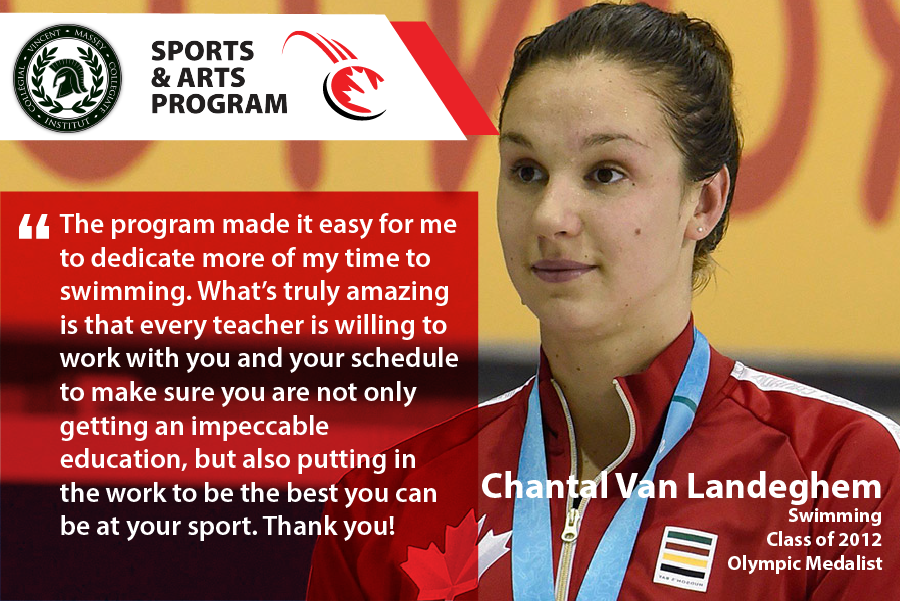 ---
Click here to

fill the Sports & Arts Program 2019/20 online application
For more information, please contact:
Scott Sywy | Athlete Services & Programs Manager


scott@cscm.ca


204.797.4517