Meet your Manitoba connected Olympic and Paralympic athletes!
Manitobans in Tokyo
2020NE Summer Olympic Games
Opening Ceremonies: Friday, July 23 | Closing Ceremonies: Sunday, August 8
---
Taekwondo
---
Skylar Park, Taekwondo
Hometown: Winnipeg, MB
Age: 22
Previous Olympic Experience: None
Skylar Park comes from a family of black belts, 16 to be exact. Her grandfather is a grandmaster, both her mother and father are masters, and her brothers, all her cousins, aunts, and uncles are blackbelts. Taekwondo is a true family affair for Skylar. Her parents are her coaches, and her brothers are her training partners. She even trains at the Tae Ryong Park Academy, the business and Taekwondo school her father and grandfather opened in 1993.
She competed in her first Olympics in Tokyo in the Women's 57kg weight class. She finished 9th overall after falling to the eventual bronze medal winner from Taiwan. She is a heavily decorated athlete, her latest medals, in 2019 a silver at the Pan American Games, and bronze at the World Taekwondo Championships.
---
Swimming
---
Kelsey Wog, Swimming
Hometown: Winnipeg, MB
Age: 23
Previous Olympic Experience: None
Kelsey competed in her first Olympic Games in Tokyo 2021. She raced in both the 100m and 200m breaststroke. She finished 23rd and 16th respectively.
She qualified for the Games after a strong  Tokyo 2020 Olympic Trials,  winning gold in both the 100m and 200m breaststroke. She also earned silver in the 200m individual medley event.
Kelsey raced with the University of Manitoba Bisons, was an Academic All-Canadian athlete with U SPORTS, won the U SPORTS 2020 Female Athlete of the Year Award, and swims professionally in the ISL with the Toronto Titans.
---
Triathlon
---
Tyler Mislawchuk, Triathlon
Hometown: Oak Bluff, MB
Age: 26
Previous Olympic Experience: Rio 2016
Tyler Mislawchuk competed in his second Olympic Games in Tokyo. Both in Tokyo and at the Rio 2016 Olympics he finished 15th in the Men's Individual race.
Heading into the Games, Tyler won the 2020 Tokyo test event and the World Triathlon Cup event in Mexico, successfully depending his title from two years prior.
Unfortunately, though slated to compete in the Mixed Team Relay, an event making its debut in Tokyo, Tyler had to withdraw from the event after sustaining a partial tear in his Achilles tendon during the Individual race.
---
Road Cycling
Results – Individual Time Trial | Results – Road Race
---
Leah Kirchmann, Road Cycling
Hometown: Winnipeg, MB
Age: 31
Previous Olympic Experience: Rio 2016
Leah Kirchmann competed in her second Olympic Games in Tokyo. She raced in both the Individual Time Trial as well as the Road Race, finishing in 12th and 36th.
Leah has had a successful career in road cycling, and races professionally for Team DSM based in the Netherlands.
---
Soccer
---
Desiree Scott, Soccer
Hometown: Winnipeg, MB
Age: 34
Previous Olympic Experience: London 2012, Rio 2016
Desiree Scott is no stranger to the Olympics. After her third appearance in Tokyo, she and Team Canada finally clinched that gold medal. Previously, Team Canada won bronze at both London 2012 and Rio 2016.
She was a key player each year she attended the Games, playing every minute in Canada's 6 games in London, all but 16 minutes in Rio, and was a full-time player in 5/6 matches in Tokyo, which impressively included extra time in both the quarter final and final matches.
Desiree continues to play in the National Women's Soccer league.
---
Fun Fact: Canada's gold medal at the Tokyo Olympics marks the first time that Canada Soccer's National teams have won a major tournament. This includes FIFA World Cup and the Olympic Games!
---
Waterpolo
---
Shae (Fournier) La Roche, Waterpolo
Hometown: Winnipeg, MB
Age: 28
Previous Olympic Experience: None
Shae La Roche had an impressive Junior and still Senior career in water polo. In both 2015 and 2019 Canada captured silver at he Pan American games, the latter securing Canada's spot in Tokyo.
Canada finished 7th overall at the Games, and Shae tied for second place on her team with 10 goals in Tokyo.
Shae plays in Europe for SIS Roma.
---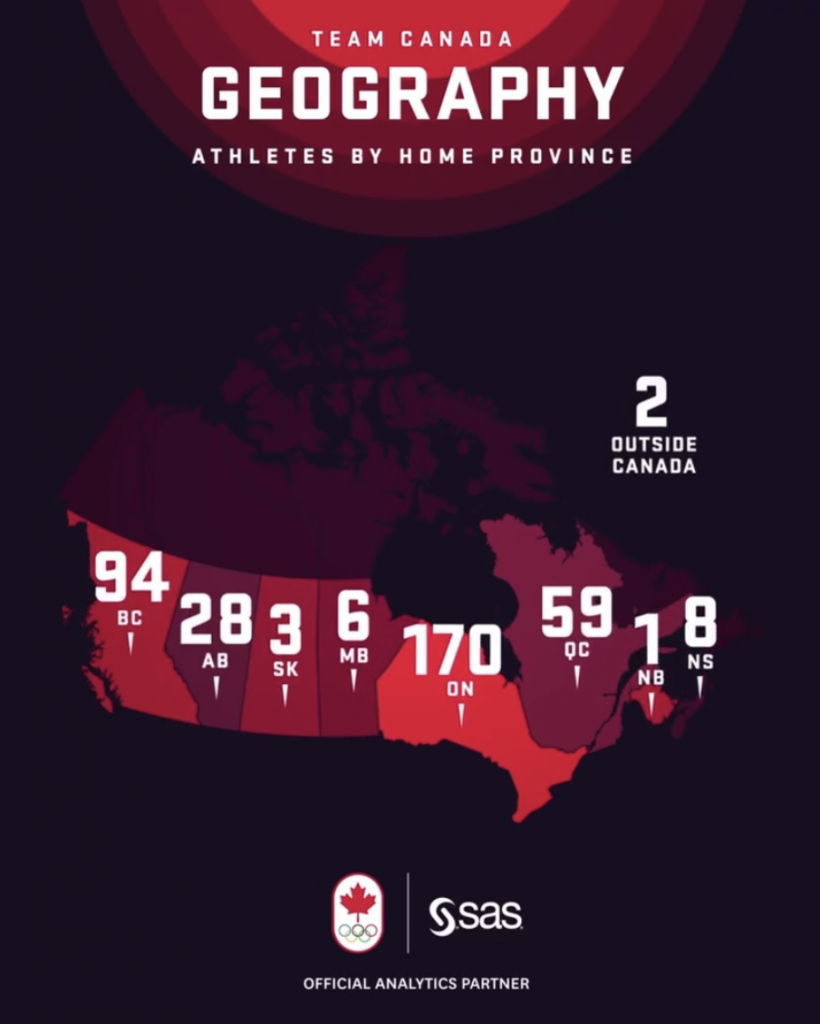 ---
2020NE Summer Paralympic Games
---
Para Badminton
---
Olivia Meier, Para Badminton
Hometown: Winnipeg, MB
Age: 22
Previous Olympic Experience: None
Olivia Meier has had an impressive badminton career in the few years that she has been competing. In 2018 she finished 1st in Mixed Doubles at the Pan Am Championships, and in the some competition finished 2nd in both Doubles and Singles. In the following year, at the 2019 Parapan American Games, she finished 2nd in Singles and won gold in Mixed Doubles.
Olivia is a student at the University of Manitoba, and her sister is her training partner.
Para Badminton made its debut at the 2020 Tokyo Paralympics where Olivia competed in the Women's Singles SL4 category.
---
Fun Fact: Olivia was the first Canadian athlete, male or female, to compete for Canada in Para Badminton!
---
The Team Behind the Team
Vlastimil 'Vlastik' Cerny, Coach, Swimming
Lorie Henderson, Coach, Gymnastics
Derek Ingram, Coach, Golf
Joey Johnson, Coach, Wheelchair Basketball
Master Jae Park, Coach, Taekwondo
Jane Edstrom, Official, Athletics
Greg Dzioba, Official, Para Table Tennis
Richard Mason, Official, Weightlifting
Adrian Honish, Performance Technology/Analysis Specialist
Dr. Robert Michael McMurray, Medical
Dana Way, Biomechanist
Anyone we've missed? Please let us know at media@cscm.ca.
---
Last updated: August 2021
---