#ThanksCoach Vanessa Martínez Lagunas
Coach Spotlight: Vanessa Martínez Lagunas
Passion. Discipline. Hard-work.
One of the benefits for CSCM being located on the University of Manitoba campus is that we have the opportunity to work right next door to some pretty incredible coaches at the university. One in particular is the head coach of the Bisons Women's Soccer program, Vanessa Martínez Lagunas. Vanessa is heading into her 7th season with the Bisons, having been hired in 2013.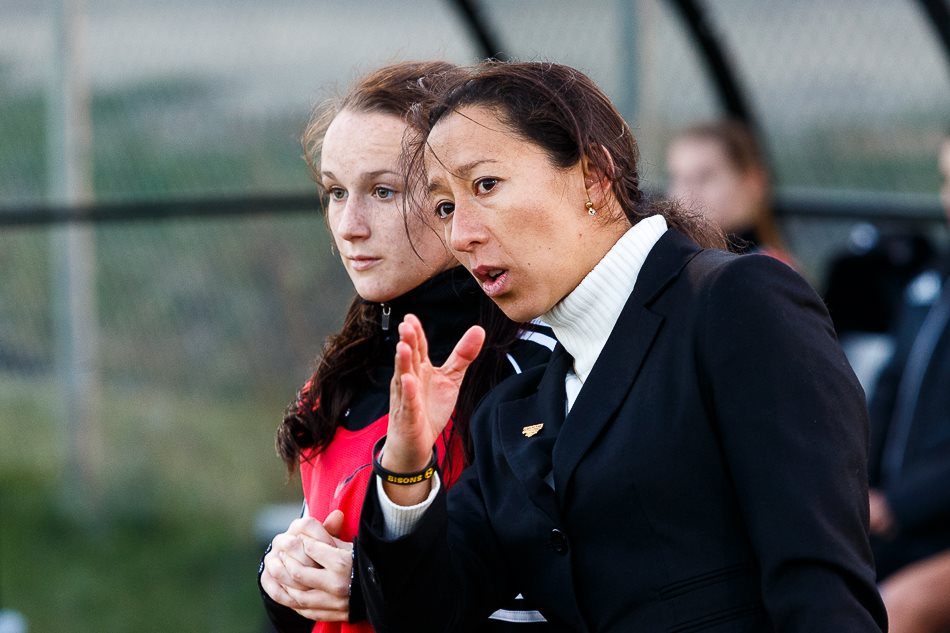 History
Vanessa grew up involved in a number of different sports, her first three being swimming, track and field, and gymnastics. Around the age of 10 or 11 she started becoming more interested in soccer and then began playing because of her oldest brother. At this time there were no girls playing, but her brother would invite her to play with his friends every day in a park close to their home in Toluca, Mexico. At first, she was still learning and may have missed the ball a time or two, but fortunately her brother and his friends helped her to learn. "I was very competitive and started getting better. It was to a point that I could beat the boys and became their leader. If someone wanted to play, they would ask me."
There were no organized soccer teams for girls at her age, but she was able to play in high school and later in university. She got a scholarship from one of the best universities in Mexico, Tec de Monterrey, and had the opportunity to be identified to play for Mexico's national team. Vanessa played for Mexico from 1999-2004, having the chance to compete at the World University Games in China, and play again internationally in Australia in 2003. From Mexico she moved to the United States where she attended the University of Texas at Austin as a student-athlete, and from there she moved to Germany to begin her PhD in Sport Science at the University of Leipzig. Here she also began playing with FC Bayern Munich. She was only with this club for about 6 months before the professor she was working with moved to Leipzig. She then began playing in the 2nd league, as they had no team in the 1st league, and she would end her playing career there.
Start of Coaching Career
Vanessa's coaching career really began in her first year of university in Texas. "That's when my curiosity for coaching started. I just wanted to know why my coach was doing what he was doing." After her first year playing, she spent all of her free time coaching and investing in herself to attain all her licenses. "Every year I tried to do a coaching license, and it took me about 10 years to get from the US coaching licenses to the UEFA Pro License." This 10-year pathway was very fruitful. She learned different methodologies from her home country in Mexico, the United States, from Germany, and now from Canada. She says that this helped her to become a better coach, and has always tried to take the best practices from the methodologies she has been exposed to.
Germany
Something very important to Vanessa was getting to have a dual career of playing and coaching. During her studies and playing career, she coached with U-11 and U-13 club teams in the US, as well as the U-16 and U-17 national team programs and selection teams in Germany. Once she retired from playing, she began coaching with her former German club team. While living in the States she completed part of her licensing, and then continued once she moved to Germany. While completing her A license, the instructor was the head coach of the U-17 German National Team. "He saw how passionate I was about the game and how hard I was working, especially because there were not many women, especially not many foreign women who were able to take these licenses and do well in them…My instructor saw that, and of course I was doing all those courses in German, which is my third language. He was impressed about that and my performance in the course, so he invited me to help out with the U-17 team." Vanessa spent about 2 and a half years with this program before getting selected to complete her pro license. This was a very competitive process. In Germany, you can wait anywhere from 3 to 10 years to get into this certification course. There were over 100 applicants at the time and 50 were selected to complete a written, oral, and practical exam, then 15 were accepted into the course. Vanessa was one of those selected. This certification included a full year of course work, practical experience, and the opportunity to work with a men's professional team towards the end of the certification. She was assigned to FC Energie Cottbus and got to work with and learn from the coaches which she says was a fantastic experience. She is incredibly thankful for the time she spent with that program, as well as the US Federation and German Federation and their coaching instructors as they helped her to get her to where she is today.
Move to Canada
Vanessa moved to Canada about a year after she completed her pro license in 2012. She heard about an opportunity at the University of Manitoba as the Head Coach of the women's soccer team. She began doing research on the country, the province, and the university and was very impressed. There were over 80 applications for the program and the school narrowed the search to 2 finalists. She was flown in from Germany and went through a process she claims was more exhaustive than her PhD examination. "I think that prepared me very well for my PhD! I had to do a presentation in front of the whole team and faculty of Kinesiology. I had to do a practical session with the Select Team in Manitoba…They evaluated that and I also had to do an interview with all the members of the hiring committee." As we know, Vanessa was the successful candidate and has been lending her invaluable experience to the program since 2013.
Women in Coaching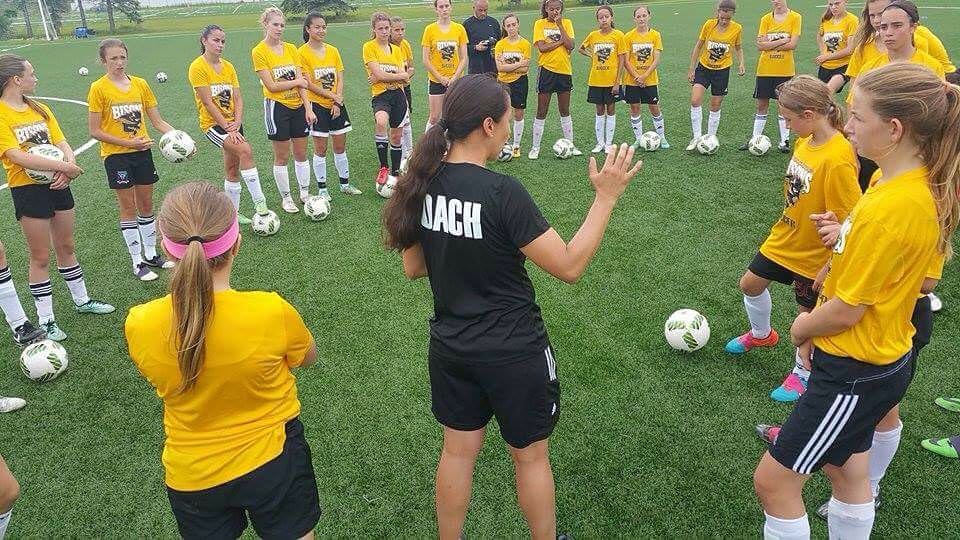 Beyond the initial curiosity, Vanessa got involved with coaching after realizing that there were not many women in the profession. Looking at her career as a player, from the nation team, to every school she was part of spanning 2 continents, she never had a female coach. "All my coaching role models were male. They were fantastic, and really good and they taught me along the way. But I was also worried, 'can women be coaches because I haven't seen one.' I think that also motivated me to get into the profession and show other girls and women that it is possible to get into coaching and that it is a beautiful profession. It is also extremely demanding, but it is very rewarding." One of her main motivations now is to be a role model for more girls and more women to get into coaching and see if she can help as much as possible. Even while completing her licenses, she was always the only, or max 1 of 3 women, in groups of 20-40 men. "It can be a challenging environment. You have to be strong; you have to be able to defend your points of view in front of many guys. I think all of those were experiences that helped me to grow not only as a coach but as a person, and also, to create really important relationships and learn from colleagues and just be open to that discussion."
Vanessa also works on giving back to the sport and coaching community. She has been involved with coaching courses all over the world. She has assisted in 2 of FIFA's 6 Confederations, UEFA and CONCACAF, helping to run courses for coaches in the women's game. These are both male and female coaches, and she wants to help to teach the differences between coaching men and women. She has been involved with these initiatives since 2008 and was most recently invited by CONCACAF to do a women's specific course for female coaches looking to obtain their D license. She helped to run the first ever course in May in Antigua that was run completely for women, by women. There were about 24-26 participants. She has been mentoring some of these women on an ongoing basis so they can keep moving through the ranks and get their highest licenses possible to be active in their own countries.
With her current team at the University of Manitoba, she tries to mentor the players that have expressed interest in the area of coaching. For this season, she has two former players that have recently graduated and joined her coaching staff. Madison Wilford is now helping as a goalkeeper coach, and Bruna Mavignier is helping in the strength and conditioning realm. "Both of them are amazing, they will have a really bright future in their respective areas. Especially because those very specific roles, goalkeeper coach and strength and conditioning/fitness coach, in soccer are even more male dominated. Overall coaching is male dominated but if you go more into specific positions it's even more so. They will be ahead of the pack and getting experience now will hopefully help them to get some other really good coaching opportunities in the near future."
Best Part of Coaching
"I love the human part of it. Working with people. I think that is the most rewarding experience you can have. The relationships you build with your players and staff members; it becomes a family. I spend more time with my team than I do with my family. Definitely we are a family and of course we have ups and downs like a family, but I think that staying together and working towards different adversities and celebrations, big wins that we have, I think that's part of life."
I think that the most important thing for me is that I understand that I have a bigger role than just as soccer coach. I think that I have to help my athletes to prepare for life.
"Basically, using soccer as a platform to prepare them for life and just teach them life lessons from teamwork all the way to discipline, hard work, perseverance, bouncing back after defeats or adversity. I think all the things we learn through sport can be extremely useful for life and I think that's the biggest motivation and what I know from coaching."
Stand Out Moment
Throughout her coaching career there are two big moments that stand out for Vanessa, and both come from her time spent here in Manitoba. Since being hired she has worked to move up the team's ranking. First, in 2016 the team qualified for the playoffs. They qualified last and had to face the number one ranked team from Calgary. The University of Manitoba were the underdogs, and everyone underestimated them thinking that Calgary would defeat them. They went on to surprise everyone by beating Calgary on home turf and qualifying for the Select Six tournament. She believes that they shocked the country with that result. The following year had the next big moment for Vanessa. The University of Manitoba won the bid to host the 2017 U Sports National Championship for the first time in the program's history. Once again, the team went in as the underdogs; they had never played at the National Championship level before. They lost the first match against the best team in the country, but went on to defeat the Ontario champions, Guelph, and shocked everyone once again. This was a huge achievement for them, winning their first ever match at the National Championship and finishing sixth overall ahead of Guelph and the former champions, Laval.
Now in 2019 the team is continuing to work hard and focus on their dream of qualifying for the National Championship by finishing either first or second in their conference of 16 teams. "We are still in the middle of the pack so we still need to climb a few places, but our goal is to be one of the best teams in the country. We are working on it. It will take us some time, some years, but I think we are going in the right direction." Competing at the National Championship was a great experience for the team because they saw what it takes to play at that level and the process in which to get there. This continues to motivate the team to get back there.
Philosophies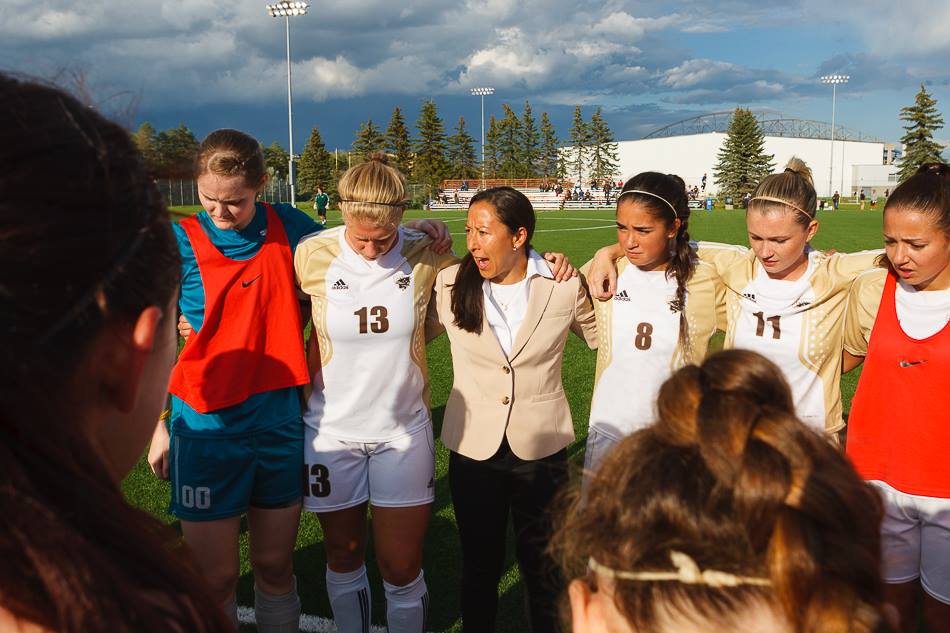 Vanessa has a well-defined coaching philosophy that is based on 3 main principles:
Player centered philosophy for development

– the most important thing for Vanessa is that her players have an environment where they can develop, not only athletically, but also academically, and personally.

Use a holistic approach

– Vanessa wants to prepare her athletes in all areas and pillars of the game. Soccer is quite complex with all the techniques, tactics, and physical and mental aspects of the game. Because her background is in sport science, she likes to use science as a part of their development. An integrated approach to help out athletes is very important, as is bringing in the best experts she can to support the athletes.

"We have a fantastic group of people that cover everything from technical and tactical aspects, all the way to sport psychology, sport nutrition, and strength and conditioning, so I really like to integrate those aspects."

Teach more than soccer

– teaching athletes for life is important and soccer is a great platform for her to use because it helps to prepare them for the world when they are out of university.
*photos provided by Vanessa Martínez Lagunas