How the COPSI Network is Helping Find Future Olympians
How the COPSI Network is Helping Find Future Olympians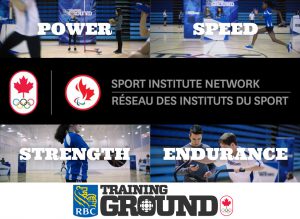 In order to ensure that Canada continues its strong placements at major games, it is key that Canada's future star athletes are identified in an efficient and effective manner.
On top of working closely with current and former Olympians and Paralympians, the Canadian Olympic and Paralympic Sport Institute Network (COPSI Network) also helps find Canada's next Olympians through our ongoing work, serving as the official delivery partner for RBC Training Ground program across Canada.
RBC Training Ground searches for young Olympic hopefuls, aged 14-25, across the country through a series of free regional events, where local athletes participate in basic field tests to measure their speed, power, strength and endurance. This testing data is relayed to 14 participating National Sport Organization (NSO) partners who then use the data to identify athletes they believe have Olympic potential.
Since 2016, RBC Training Ground has tested 2,500 elite young athletes across the country, and dedicated a total of $675,000 in funding to support promising future Olympians.
---
Strong & Growing Stronger
The COPSI Network's connection to RBC Training Ground is a strong one, and growing stronger each year. Canadian Sport Institute Pacific (CSI Pacific) created a talent identification program in 2011 called PODIUM SEARCH™ which has the same aim RBC Training Ground: to use a series of tests to identify future Olympians. In fact, due to the success of PODIUM SEARCH, RBC used the technical leadership and testing protocols created by CSI Pacific to create RBC Training Ground.
CSI Pacific's Director, Talent Development, Kurt Innes spearheaded the PODIUM SEARCH program and now is the National Technical Lead for RBC Training Ground across the country.
Originally starting with four regional finals in 2016, RBC Training Ground has expanded its nationwide search to all 10 provinces with the aim of continued success at identifying talented young athletes across the nation. This year features additional new stops in Saskatchewan and Manitoba.
With that expansion, so too has the COPSI Network's role expanded. On top of the technical leadership provided by Innes, the COPSI Network provides six regional coordinators across the country who work to coordinate RBC Training Ground in their respective regions. With Adam Kleeberger, Lead Strength & Conditioning Coach for RBC Training Ground, the COPSI Network's contributions to the program are varied and extensive. And due to the program's ongoing success, our level of assistance is increasing each year.
---
A Nation of Partners
RBC Training Ground's other national partners include the Canadian Olympic Committee (COC), Canadian Olympic Foundation (COF) and CBC Sports.
Participating NSO partners include Canada Snowboard, Canada Basketball, Cross Country Ski Canada, Wrestling Canada and Speed Skating Canada who will join returning partners Athletics Canada, Bobsleigh Canada Skeleton, Canoe Kayak Canada, Cycling Canada, Rowing Canada, Rugby Canada, Freestyle Canada, Judo Canada and Water Polo Canada.
---
Quick Facts
RBC Training Ground is open to Canadian athletes between the ages of 14–25.
Participants' results will be measured against performance benchmarks set by NSOs to determine an athlete's capacity for each individual sport.
In 2017, over 2,100 athletes attended RBC Training Ground events. Of these, more than 300 of them were invited for additional testing by a national sport governing body.

Thirty athletes were then selected to receive ongoing support funding from RBC in order to pursue their Olympic dreams (including travel, coaching and nutrition expenses).
---
[bs_button size="md" type="info" value="Click here to register for an RBC Training Ground in their province" href="http://www.cbc.ca/olympics/trainingground/"]