My Experiences with Sport Psychology
About Chantal:
Chantal Van Landeghem is an Olympic bronze medallist from Winnipeg, Manitoba. Chantal recently graduated from the University of Georgia with a perfect GPA as one of the school's top swimmers in history. She is returning home to Manitoba this fall to complete her Master's of Psychology at the University of Manitoba, under the mentorship of CSCM's Adrienne Leslie-Toogood.
---
My Experiences with Sport Psychology
– Chantal Van Landeghem
---
---
When I made my first national team in 2011, I began working with Dr. Adrienne Leslie-Toogood, head sport psychologist for this year's Canada Games. It was something I was at first hesitant about, I wasn't sure what to expect and I wasn't sure what people would think. In retrospect, I wish I had started working with Adrienne sooner, as the experience has helped me achieve the successes I have today.
A technique I particularly enjoyed whilst working with Adrienne was our debrief sessions after every single competition, no matter how small. She encouraged me to talk about what I had learned, and we compiled these lessons all together. What I was ultimately left with at the end of our time together was a guide to how and when I perform my best.
Through success, failure, and reflection of both, I learned that I perform my best when I'm smiling and having fun. That's why no matter how nervous I am before a race, I will smile when the announcers call my name. The brief – albeit sometimes forced – smile is a tiny reminder to myself to enjoy the moment.
[bs_well size="sm"]Chantal laughs alongside her teammates after capturing Canada's first medal at the Rio 2016 Olympic Games in the women's 4x100m freestyle relay. [/bs_well]
Often, my poor performances come when I put too much pressure on myself and forget to have fun.
What this simple technique also helped me realize is that failure is inevitable.
It's also a learning opportunity.
Even today, I have my fair share of subpar races and disappointing meets. I use every one of them as a growing and learning experience to ultimately make me a better and stronger competitor.
I attended school at the University of Georgia, where I was introduced to new sport psychology techniques to complement what I had learned with Adrienne. One of the biggest lessons I learned from my four years was to focus on what I can control, and not let things I can't control cause me stress or anxiety.
[bs_well size="md"]2016 – Chantal was inducted into the Phi Beta Kappa Honor Society and was named the organization's 2016 Dean William Tate Scholar. Chantal was the University of Georgia's first student athlete to receive the award.[/bs_well]
I realized there was no use worrying about how fast the swimmer beside me was going to swim, for example, because I couldn't control that. What I could control was my attitude, how I dealt with my emotions, and my effort. This simple yet powerful concept has been one of the greatest influences in helping me perform at my best under pressure.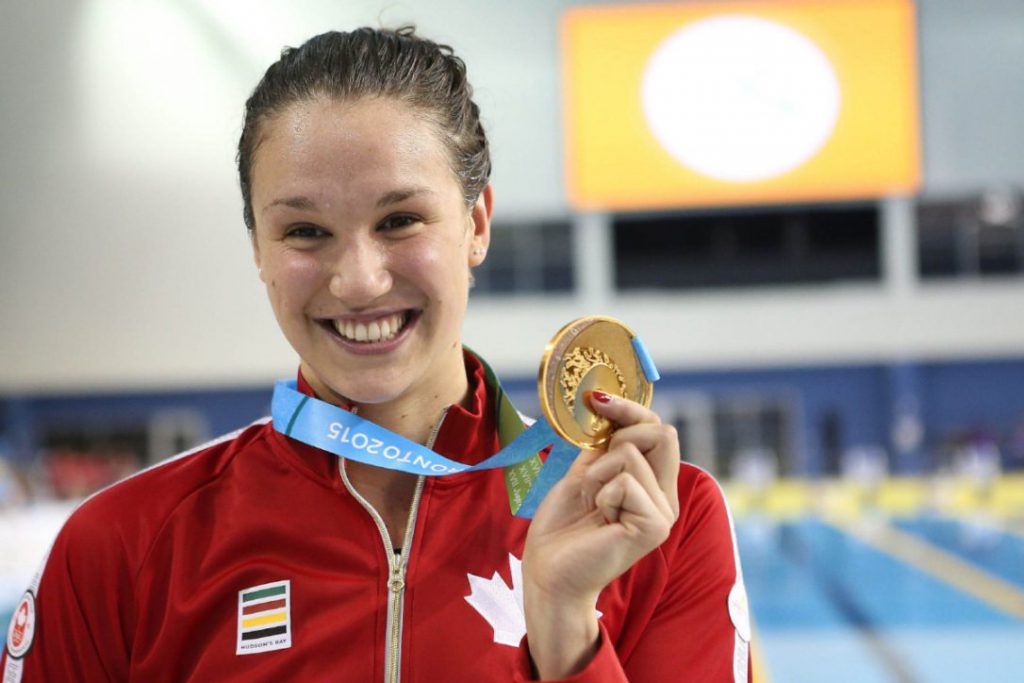 [bs_well size="sm"]Chantal after winning gold in the 100m freestyle at the 2015 Pan Am Games[/bs_well]
As I alluded to above, I was hesitant to see a sport psychologist because of the stigma that still exists around mental health in sport. Mental health is not discussed in the same way physical injuries are. However, mental health issues can be just as debilitating, if not more so, than injuries you can see.
I've utilized sport psychology to help me compete at my best when the pressure is at it's highest, and I've had many teammates and friends use sport psychology to help deal with anxiety, depression, and other mental illnesses.
This year will be my eighth year on Canada's national team. I have won eight international medals at the World Championships, Pan American Games, Pan Pacific Championships, and Olympic Games.