Giving Tuesday: the movement dedicated to giving back
---
Giving Tuesday
On November 28, join the movement dedicated to giving back. 
---
Sport is a great unifier of people.
It teaches life lessons such as dedication, passion and perseverance. Top tier athletes inspire others to action. By being personally involved with an organization that supports high performance athletes I hope to help inspire the next generation of athletics and to encourage participation in sport and all of its societal benefits.

– Travis Muhr – Treasurer, Board of Directors
---
[bs_row class="row"]
[bs_col class="col-sm-6″]
 What inspires YOU to give back?
Show your support for the international day of giving by hashtagging #UNSelfie and #GivingTuesdayCA on Twitter, Facebook, and Instagram.
[/bs_col]
[bs_col class="col-sm-6″]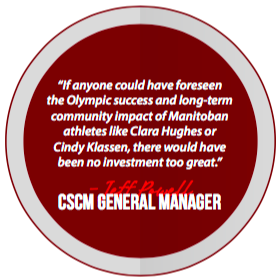 [/bs_col]
[/bs_row]
Tomorrow, the Canadian Sport Centre Manitoba will be participating in Giving Tuesday for our second year ever.
It has been our mission for 20 years to provide support for the exceptional athletes who will someday become leaders and advocates in our communities, as well as Olympic champions.
---
Every dollar counts.
$20 = 1 week of gym access
$60 = 1 athletic therapy session
$100 = 1 sport psychology sessions
No matter your budget, a gift to CSCM can help provide our athletes
with the support they need.

---
About Giving Tuesday:
In the wake of Black Friday and Cyber Monday, Giving Tuesday works to promote charitable giving throughout the world. Tomorrow, millions of Canadians will join the movement dedicated to giving back by supporting charities and businesses in their communities.
Learn more about Giving Tuesday by visiting GivingTuesday.ca
or by visiting our Giving Tuesday page: Canadian Sport Centre Manitoba.