Innovative Program is Building Next Generation of Olympic Wrestlers
Winnipeg, MB – When coach Adrian Bruce joined the University of Winnipeg staff in June of 2011, the Wesmen Wrestling program didn't exist. Today it's attracting some of the top talent from across Canada and beyond – and producing this country's next generation of Olympians.
Emily Kessler and Kyle Nguyen are two such athletes with their eyes set on competing in the 2020 Tokyo Games. Both in their fourth year of university, Kessler (who is studying kinesiology) and Nguyen (a computer science major) plan on staying in Manitoba to continue training after graduation.
The 23-year-old Kessler hails from Essex, Ontario, and was scouted by Bruce at an OFSAA wrestling competition. "I didn't know anything about Winnipeg before I came here," admits Kessler, who began wrestling in grade 9. "In high school I never imagined wrestling at a high level. But when I was given this opportunity, I saw it as a chance for something more for myself." Today, her goal is to make a senior national team one day.
Kessler says the Wesmen team has become like a family for her, and that training has helped her through some of the tough times since leaving home. "Some days wrestling is a love/hate relationship for me, " she jokes. "But it's mostly love. I really enjoying going to practice and having the support of my team."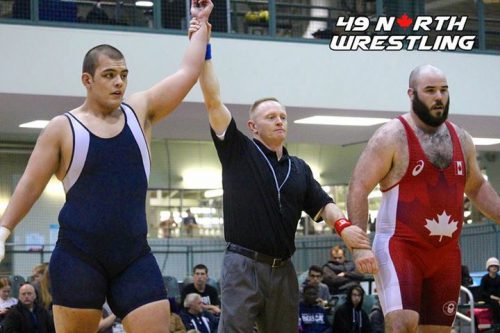 Nguyen, now 22-years-old, grew up in Vancouver, BC. He too started wrestling in high school and was recruited for the Wesmen team. "I remember it clear as day," he says of his initial interactions with Bruce. "I didn't have the funds to move away from home without a full scholarship, but Adrian didn't have the money in the budget at first. He said, 'Let me see what I can do.' Two days later he called back and offered me a full scholarship." Though Nguyen had three other schools interested in him, he was attracted to the Wesmen program and the philosophy of coaching.
He tells a moving story that occurred shortly after accepting with U of W: "On May 28th I had suffered an almost career-ending injury where I'd dislocated my ankle and sustained a spiral fracture in my leg." After putting off the difficult conversation with coach Bruce, he eventually got up the courage to break the news. "I was almost in tears during that call. I told him what happened, saying 'I heal fast!' But Adrian replied, 'This isn't about you wrestling next year. This is about you playing in your front yard with your kids one day. Don't worry – your scholarship is fine.'" Within days, Bruce had set up a plan, ordering cryo cuffs and other equipment to help in the recovery process.
"And that's why I stay," Nguyen says. "There are other CIS programs that haven't accomplished as much in 30 years as what Adrian has done with ours. He really cares; he embodies positivity and passion for the sport."
Both athletes have enjoyed working with the Canadian Sport Centre team in the areas of sports psychology and dietetics so far, and are looking forward to beginning strength and conditioning training next month. "The younger athletes are starting to wrap their heads around the concept of an integrated support team, and see the value in it," says Bruce, noting how novel this kind of partnership really is. "This is the first partnership of its kind in any CIS or university program in Canada. There was no functional model in place; it was a learning curve to start." Of the CSCM staff, he says, "They're givers. They're not afraid to jump in with both feet, learn as much as they can about our sport, and serve us as best as possible."
What's next for the athletes? Wesmen Wrestling will head out on a 26-day tour in June, which includes FISU Trials and Canada Cup in Guelph, Ontario, followed by training camps and competition in Istanbul, Turkey and Madrid, Spain. "I'm feeling inspired for the future," says Kessler, "and although I'm not sure exactly what to expect, I'm excited about the international training and exposure."
-30-
About CSCM: 
The Canadian Sport Centre Manitoba (CSCM) was created as one of the many legacies of the 1999 Pan American Games held in Winnipeg. Today, CSCM is the hub for high performance sport in Manitoba. A proud member of the Olympic and Paralympic Sport Institute Network, CSCM works to provide a world-class, multi-sport daily training environment for athletes and coaches through integrated services and programs in the fields of physiology, strength and conditioning, nutrition, psychology and support services.
For more information, contact:
Jeff Powell
General Manager, Canadian Sport Centre Manitoba
Direct Line: 204.474.7148 | Email: media@cscm.ca