Heat Training with Leanne Taylor (Paratriathlon)
Garage Heat Training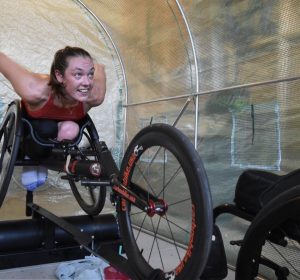 What would have been part of the final preparation before the trip to Tokyo became part of a long stretch of at-home training. The postponement of the 2020 Olympic and Paralympic Games meant paratriathlon athlete, Leanne Taylor had the opportunity to undergo a week of intense heat training without the added pressures of an upcoming Paralympic event.
The para-triathlon team will typically do heat training to adapt their athletes ahead of a competition in hot and humid environments. Tokyo is no exception to this, with expected temperatures in the mid 30's and humidity above 60% during the scheduled Paralympic Games, now moved to 2021.
These heat training blocks generally consist of 5 consecutive training days in similar or hotter environments to really challenge the athlete and force their bodies to adapt, all under the watchful eye of sport science staff to ensure the athlete safety.
For Leanne, who has recently joined Canada's paratriathlon team, this was her first go at a heat training block. Due to scheduling changes, her heat week was placed at the beginning of a cooler-than-average September in Winnipeg, meaning that outdoor heat training was not an option.
To artificially create the heat, a small greenhouse was ordered and installed in her garage, and space heaters were used to increase the temperatures in the tent to above 30 degrees Celsius. There were also two pool sessions, which Leanne completed in a full wetsuit.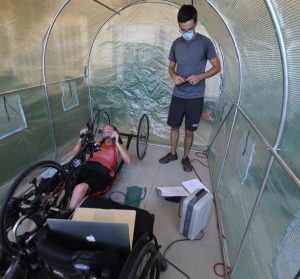 Leanne successfully performed long and physically taxing workouts in the heat, which were a mix of high intensity intervals and steady state work. These workouts were designed to get Leanne's core body temperature up quickly, and maintained at a high level for the course of the training session.
Alongside Leanne was her partner and paratriathlon handler Scott, who helped immensely with session preparation and logistics. CSCM Sport Dietitian, Janelle Vincent assisted with some of the sessions and helped ensure Leanne was well hydrated ahead of these hot training sessions, while CSCM Physiologist, Jérémie Chase monitored her core temperature, workout intensity, and fine-tuned the greenhouse temperature to ensure that Leanne was both safe and well challenged by the heat.
While there was no competition in the books for 2020, the heat training block in September provided a great learning experience for Leanne and her support team to understand the demands and preparation involved with heat training.