Heading into the last weekend of the Games, here's a recap of Manitoban athletes' results so far.
Wheelchair Rugby 
Wheelchair rugby kicked off on Wednesday this week, and Canada's team is off to a solid start. Former Manitoban Ian Chan and his teammates won against Brazil yesterday (62-48). In this afternoon's game versus Great Britain, with only seconds left in overtime, Canada scored — winning 50-49. Canada is set to face Australia tomorrow (Friday, Sept 16) at 5:15 p.m. CT. Semifinals will take place Saturday.
Sitting Volleyball 
Winnipegger Leanne Muldrew and Canada's sitting volleyball team played their last game this morning. After a winless week of competition, the team finished on a high note, winning the classification game 3-0 against Rwanda. Canada leaves in seventh place overall.
This Weekend
Michelle Stilwell will try for her second gold medal of the Rio Games. The women's T52 100m event takes place Saturday, Sept 17 at 9:05 a.m. CT.
Currently, Canada has won a total of 20 Paralympic medals in Rio — six gold, nine silver and five bronze. The Games wrap up with the Closing Ceremony on Sunday evening.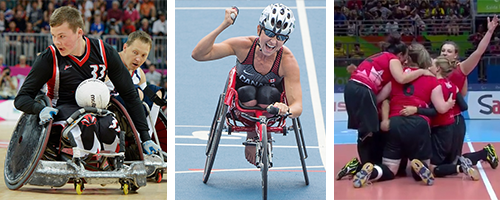 -30-
About CSCM: 
The Canadian Sport Centre Manitoba (CSCM) was created as one of the many legacies of the 1999 Pan American Games held in Winnipeg. Today, CSCM is the hub for high performance sport in Manitoba. A proud member of the Olympic and Paralympic Sport Institute Network, CSCM works to provide a world-class, multi-sport daily training environment for athletes and coaches through integrated services and programs in the fields of physiology, strength and conditioning, nutrition, psychology and support services.
For more information, contact:
Jeff Powell
General Manager, Canadian Sport Centre Manitoba
Direct Line: 204.474.7148 | Email: media@cscm.ca