Stilwell wins Paralympic gold in record-setting time
Michelle Stilwell added a fifth Paralympic gold medal to her collection on Saturday, as she claimed the T52 400m title with a personal best (and Paralympic record) time of 1:05.43.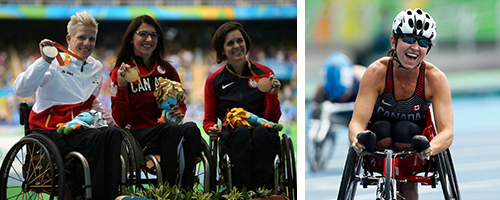 Michelle annihilated the field, finishing more than two seconds ahead of the silver medal winner. Rio is the fourth Paralympics Games for the 42-year-old BC MLA, and she is showing the world she's still plenty capable of gold-medal performances. Michelle has now won gold in each of the Paralympic Games she's competed in.
"The race was fluid. I felt confident and relaxed through the whole race and to cross the line first and to bring the gold home for Canada, well, it was the moment I was working for," said Michelle.
Coming up next for Michelle is the 100m, an event in which she won silver at the London Games.
---
Meghan Montgomery helps Rowing Canada to its first-ever Paralympic medal
After retiring post London 2012 Games, Meghan felt she had "unfinished business" in her rowing career. Five podium finishes at five World Championships wasn't enough for her, and she decided to emerge from retirement in pursuit of her dream of winning a Paralympic medal. That was just under a year ago.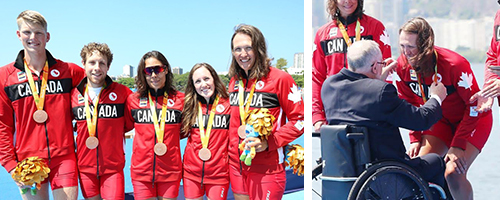 On Sunday, Meghan and her LTAMix4+ crew captured bronze – Canada's first ever Paralympic medal in rowing. The Canadian team was just inches away from taking silver. "We came back on the US in a big way. We got from the stern to just being a bow ball away from silver. It was a good race," said Meghan.
---
Chantal Givens climbs to eighth-place finish in Paralympic debut
Winnipeg phys-ed teacher and paratriathlete Chantal Givens finished eighth in her first Paralympics, with a time of 1:19:13 in the PT4 division. The inaugural paratriathlon event took place on a tough course in Copacabana Beach in Rio.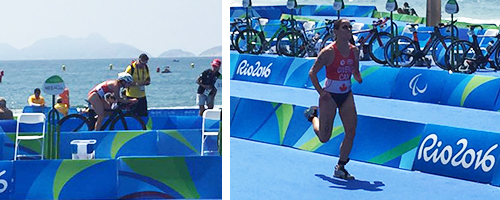 After coming out of the water in 10th place, Chantal slipped to 11th partway through the cycling portion of the race, but fought her way up three places in the run.
"I wasn't going to give up today. I got off that bike and just told myself to lay it all out there and I picked up a few spots. This whole experience has been surreal and I will take so much away from it," Chantal said. "I worked very hard to get here and earn my spot. The race itself was almost the icing on the cake for me after all the hard work that I put in. I enjoyed the moment today and every second of what I was doing."
---
Canada's sitting volleyball team down two games in the preliminaries
The women's sitting volleyball team fell to the Netherlands (1-3) in Sunday's game. Earlier in the weekend, the Canadians lost to home team Brazil (0-3). The team plays its next game against Ukraine (the third-ranked team in the world) on Tuesday.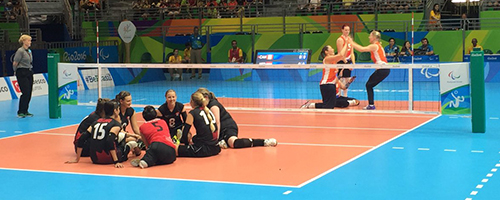 -30-
About CSCM: 
The Canadian Sport Centre Manitoba (CSCM) was created as one of the many legacies of the 1999 Pan American Games held in Winnipeg. Today, CSCM is the hub for high performance sport in Manitoba. A proud member of the Olympic and Paralympic Sport Institute Network, CSCM works to provide a world-class, multi-sport daily training environment for athletes and coaches through integrated services and programs in the fields of physiology, strength and conditioning, nutrition, psychology and support services.
For more information, contact:
Jeff Powell
General Manager, Canadian Sport Centre Manitoba
Direct Line: 204.474.7148 | Email: media@cscm.ca