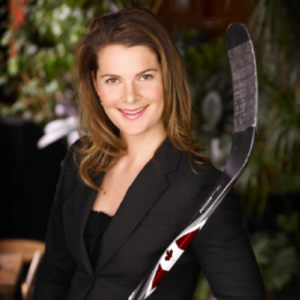 Jennifer is a keynote speaker, and peak performance coach. She is the CEO and president of two companies – Excel in Life Inc and Journey to Excel Inc. Jennifer has worked in the keynote speaking industry for over 15 years and is driven to help others to reach their potential.
Jennifer was a member of the Canadian Women's Hockey Team for fourteen years and attended 4 Olympic Games. She is a three-time Olympic Gold Medalist (2002, 2006, 2010) and an Olympic silver medalist (1998). She is a five-time World Champion and was twice named the most valuable player at the World Championship tournaments. Jennifer played a key role on the Vancouver 2010 team that was highlighted by assisting on the gold medal winning goal.
Jennifer also works as a television broadcaster. She is an analyst for the NHL's New York Islanders with MSG Networks. During her career she has worked with TSN, Sportsnet, and CBC in various roles covering Hockey Canada, the Winter Olympics and the NHL. In 2020, Jennifer was an in-studio analyst for NBC's historic first all-women's broadcast team.
She has been a leader for development and mentorship. She has worked on projects for the International Olympic Committee (IOC) and the International Ice Hockey Federation (IIHF) and is an ambassador for Right to Play.