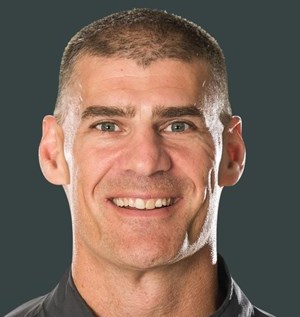 Jon Rempel is the Head Coach of the University of Manitoba Women's Hockey Team. Jon played at the University of Manitoba from 1993-1996 where he was a three-time Academic All-Canadian.
Entering the 2019-20 season, Rempel returned to the helm of the Manitoba Bisons women's hockey program for a 16th season. Over his tenure, Rempel has been named Canada West Coach of the Year five times (2004-05), (2006-07) (2014-15) (2016-17) (2017-18) and has led the Bisons to ten Canada West finals, and six trips to the National Championships. Rempel was also the U SPORTS Coach of the Year in 2017-18 after guiding the Bisons to their first-ever national title. In five other trips to Nationals, the Bisons have won bronze three times, finished fourth once and finished sixth once.
Additionally, Rempel was an assistant with the Under-18 provincial team that won bronze at the 2007 Under-18 National Championships in Kitchener and the Head Coach of Team Manitoba at the U-18 Nationals in Surrey (finished fourth place) in November 2009. In 2010, he was named a camp coach at Hockey Canada's U-22 Selection Camp in Toronto. In 2015, Rempel led the Canadian team to a silver medal at the FISU (University) Games in Granada, Spain. He was also a guest coach with the Kootenay Ice of the Western Hockey League in the fall of 2018 and the Fife Flyers of the Elite Ice Hockey League (United Kingdom) in the winter of 2018.