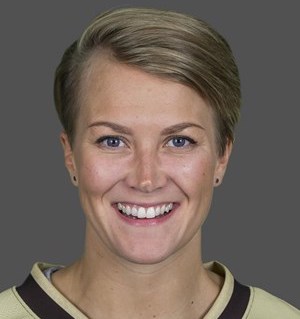 Venla is the head coach for the female U17 Prep Team at Okanagan Hockey Academy. She formerly worked as an on-ice instructor for the Jets Hockey Development and was the assistant coach for the University of Manitoba Bisons in Winnipeg.
Venla has gained experience coaching players of all ages and skill levels, both female and male players. Venla is also the founder and director of VH Hockey, which is a training platform for athletes, including hockey camps and a future mentorship program.
Her interest in coaching started during the last years of her extensive playing career, and she is now able to use her own experiences to help other players to reach their full potential.
Venla was born in Tampere, Finland, and has lived the last five years in Canada. She is an active advocate for gender equality and enjoys inspiring younger generations to better the future in sports.
Playing career:
Three-time Ice Hockey Olympian, Team Finland 2010, 2014, 2018
Two-time Olympic Bronze medalist 2010, 2018
U SPORTS National Champion 2018 with the University of Manitoba Bisons
IIHF Women's Hockey World Championships medalist 2008, '09, '17, '19
Canadian Women's Hockey League Clarkson Cup Champion 2019
Three-time Finnish Women's National League Champion 2006, 2010, 2011