Rio Roundup: Days 8 to 10
Bela Keeps on Beaming
Isabela Onyshko was the only Canadian gymnast to qualify for both an all-around final and an apparatus final. Through her qualifiers she stayed composed and positive, always the first to congratulate or encourage her teammates. In this afternoon's final, she performed her beam routine with confidence but fell partway through, following a difficult element. Bela finished her routine beautifully, earning an eighth place finish with a score of 13.400.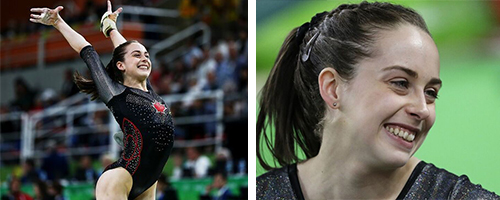 After speaking with Brandon Eagles (and Team Canada Gymnastics) coach Lorie Henderson, Isabela was all smiles once again, hugging the first place finisher, Sanne Wevers of the Netherlands. As one commentator noted, Bela surprised many by making it to today's beam final alongside some powerful competitors. Though the young gymnast has never looked for attention, she certainly proved herself worthy of it at the Rio Olympic Games.
---
Swimming Canada's Stunning Performance in Rio 
The Canadian women's 4x100m medley relay team were Swimming Canada's last hope for a medal, following an underwhelming performance by two-time Olympic medallist Ryan Cochrane. The women's team set the bar high, obliterating expectations by breaking several Canadian records and earning a total of six Olympic medals. Ultimately, they didn't quite reach the high standards they'd set for themselves in the six days previous.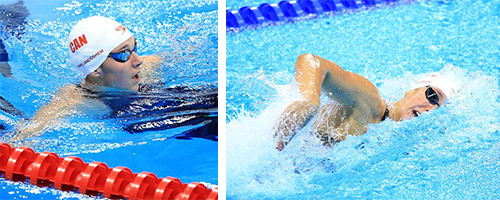 While Winnipegger Chantal Van Landeghem didn't join her team in the heat, she swam a strong freestyle anchor leg for the team in Saturday's final, propelling them to a Canadian-record-setting time of 3:55.49. The 4x100m medley team finished fifth overall. "We have been riding such a high and we've come to expect now that we can medal in a lot of races," said Van Landeghem. "That was the expectation going in tonight. And so disappointment happens and we just have to learn from it and keep moving forward here."
Chantal also fell short of qualifying for the women's 50m freestyle final, but will leave her first Olympic Games with two Canadian records and a bronze medal around her neck. Chantal Van Landeghem has become the first swimmer in Manitoba's history to win an Olympic medal.
---
Men's Volleyball Vying for Quarter-final Spot
Canada has one last shot at qualifying for the quarter-final round in the men's Olympic volleyball tournament. They took on Mexico over the weekend, winning in three sets and putting themselves in a four-way tie with Brazil, France and the U.S. Monday night, Canada will fight to stay alive in their match against Italy. The top four teams will move on.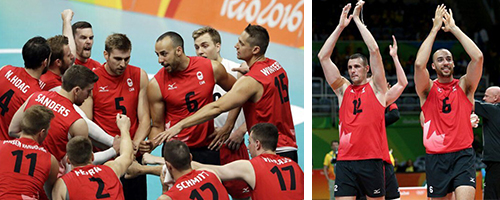 Tonight vs. Italy – Monday, Aug 15 at 6:30 p.m. CT
---
Heartbreak for Nicole Sifuentes
Nicole Sifuentes appeared visibly shaken after failing to move on to the final she had worked so hard to reach. Nicole had high hopes entering her second Olympic Games, looking to qualify for the women's 1500m final after falling short in London. After setting her personal best of 4:03:97 earlier this summer, the 30-year-old Sifuentes was optimistic leading up to the semifinal, but an off day at the Rio Games left her disappointed.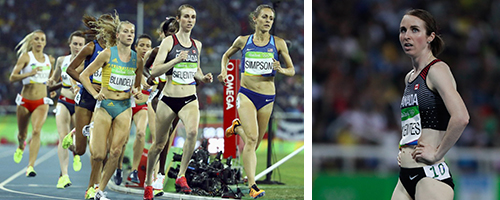 After a strong first lap, Nicole fell into fifth for most of the semifinal race and wasn't able to make the push she needed; she was overtaken by three more runners in the final lap. A strong final kick meant Sifuentes finished seventh in her heat, with a time of 4:08.53. "When I finished, there was hope. But I had no idea what the first heat did, and they were clearly much better. And I'm done."
 

Only the top five from each heat and the next two fastest finishers advanced, meaning Nicole's effort wasn't enough for her to move on. "For all those people [who support me], I run for them. I wish I could've given them something to be excited about tonight. This is hard. But I'm thankful that I was here, and I gave it my best."
 
---
Teschuk Makes Olympic Steeplechase Debut
Erin Teschuk, Canada's back-to-back steeplechase National Champion, made her Olympic debut in Rio this weekend. Erin and teammates Geneviève Lalonde and Maria Bernard became the first Canadian women to ever compete in the Olympic steeplechase event. Erin's heat time of 9:53.70 was nearly 14 seconds slower than her personal best, putting her 16th in her heat, not fast enough for her to move on to the final.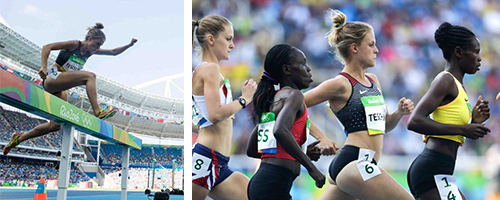 "It wasn't the race I wanted. I'm taking lots of motivation out of it… Four years down the line, it could be a completely different race for me. I'm trying to focus on that," said Teschuk.
Erin only began racing steeplechase competitively three years ago, climbing the NCAA rankings quickly ever since. Erin's first major international competition took place just last year at the 2015 World Championships in Beijing, China. After being selected to represent Canada at the Olympics, Erin decided to give up her final year of NCAA eligibility to run with the ASICS Furman Elite training group.
While her 16th place finish didn't allow her to move on to a final, 21-year-old Teschuk has tremendous potential, and is motivated to return to the Olympic Games in Tokyo in 2020 faster, fiercer and more experienced.
---
One Match Stands Between Canada and a Shot at Olympic Gold
Canada vs. Germany semifinal preview 

Four years ago, the Canadian women surprised the world by proving they were an Olympic medal contender in soccer. This year, Canadians' expectations of the Women's National Team are high, but no higher than those of the players themselves. The undefeated Canadian squad has proven they are a soccer powerhouse, and have become the team to beat in this year's Olympic tournament.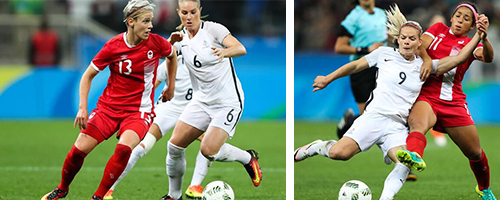 After defeating France 1-0 with a goal from Winnipeg-born Sophie Schmidt, Canada is on to the semifinals. "We're not done yet," says coach John Herdman. On Tuesday afternoon, the women take on a dominant German team for a second time, but this time, a shot at Olympic gold is on the line.
 

Semifinal vs. Germany – Tuesday, Aug 16 at 2 p.m. CT
-30-
About CSCM: 
The Canadian Sport Centre Manitoba (CSCM) was created as one of the many legacies of the 1999 Pan American Games held in Winnipeg. Today, CSCM is the hub for high performance sport in Manitoba. A proud member of the Olympic and Paralympic Sport Institute Network, CSCM works to provide a world-class, multi-sport daily training environment for athletes and coaches through integrated services and programs in the fields of physiology, strength and conditioning, nutrition, psychology and support services.
For more information, contact:
Jeff Powell
General Manager, Canadian Sport Centre Manitoba
Direct Line: 204.474.7148 | Email: media@cscm.ca