Rio Roundup: Days 10 to 12
The Future of Triathlon Canada
While Tyler Mislawchuk may not be on every Canadian's radar just yet, he should be tomorrow. The triathlon world and his hometown of Oak Bluff, MB know exactly what kind of performance this 21-year-old Olympic rookie is capable of.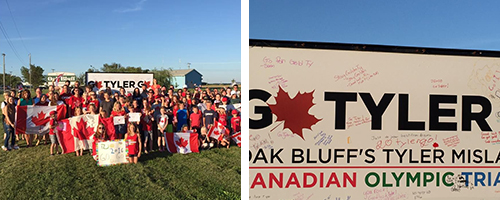 His journey to the starting line in Rio has been nothing short of remarkable. Two and a half years ago, when the Olympic qualification period was about to begin, Tyler was lying in a hospital bed with broken ribs, missing teeth and a shattered jaw. One year ago, he was making his debut on the World Triathlon Series (WTS) circuit, accumulating his qualification points in half the time of his competitors.
Tyler saw his best performances this past year, breaking the top ten in several WTS races, while climbing steadily up the world rankings. This June, Tyler was named to Triathlon Canada's Olympic team, ranked eighth in the world. Many are calling Tyler the future of Triathlon Canada, and tomorrow morning, he'll line up at his first Games as the youngest competitor in his event.
Men's Triathlon: Thursday, Aug 18 at 9 a.m. CT
---
Canada Falls to Germany in Semifinal Match
The Canadian women's soccer team went into the Rio Olympic Games with one goal in mind: to have Canada's anthem played and its flag raised high in Rio. Unfortunately the Canadian team, ranked 10th, came up short in Tuesday's semifinal, falling 2-0 to Germany in their first defeat of the tournament.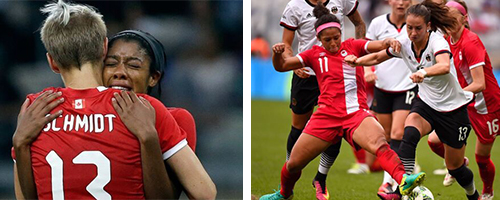 Germany's shut-down defensive strategy limited the Canadians' offensive chances, and kept them off the scoreboard throughout the match – while the Germans still managed to net two goals. In the end, the Canadians weren't able to execute in key moments, and the clock ticked upward as Canada played with more aggression and more desperation.
The Canadian team was heartbroken after the match, veteran players comforting their younger teammates. A distraught team hugged and cried as their road to Olympic gold in Rio came to a difficult end.
While gold is no longer an option for the women, the journey is not over yet: Canada will look to win the final medal up for grabs in women's Olympic soccer as they take on host nation Brazil in the bronze medal match Friday.
Bronze medal game vs. Brazil: Friday, Aug 19 at 11 a.m. CT
---
Canada's Strong Olympic Volleyball Showing Comes to an End
On Monday night, the Canadian men's volleyball team upset an undefeated Italian team in four sets, with TJ Sanders hitting the game-winning ace to lift Canada into the quarter-finals. The Canadians put on a superb show, tearing down one of the world's best teams. Their win clinched them a second-place finish in their pool of six, ahead of the U.S. and Brazil.
This morning, the Canadian team took on Russia in their quarter-final match. What has been a breakthrough run for the men came to its end as they fell to Russia three sets to none, in what would be their last Olympic match.
Rio was the first Olympic appearance in 24 years for Canadian men's volleyball, and they proved themselves too skilled to be overlooked. Qualifying in June, Canada took one of the final five spots in the Olympic tournament, and was ranked second-last in their pool just 10 short days ago. Their first match of the tournament was against a strong American team, and after a stunning upset, Canadians learned the men's indoor team was in for a historic Olympic performance.
While Canada may not have made the medal round this quadrennial, the team's consistency and strong performances against top-ranked teams have proven they're among the best in the world – and will only come back stronger looking ahead to Toyko. Also of note: TJ Sanders had the fourth best setting average in the tournament.
-30-
About CSCM: 
The Canadian Sport Centre Manitoba (CSCM) was created as one of the many legacies of the 1999 Pan American Games held in Winnipeg. Today, CSCM is the hub for high performance sport in Manitoba. A proud member of the Olympic and Paralympic Sport Institute Network, CSCM works to provide a world-class, multi-sport daily training environment for athletes and coaches through integrated services and programs in the fields of physiology, strength and conditioning, nutrition, psychology and support services.
For more information, contact:
Jeff Powell
General Manager, Canadian Sport Centre Manitoba
Direct Line: 204.474.7148 | Email: media@cscm.ca