Rio Roundup: Days 13 & 14
Tyler Mislawchuk – Triathlon
Manitoban Tyler Mislawchuk, who celebrates his 22nd birthday today, represented his country and home province well in the men's triathlon competition yesterday morning. With a time of 1:47:50, Tyler finished in 15th place out of 55 competitors.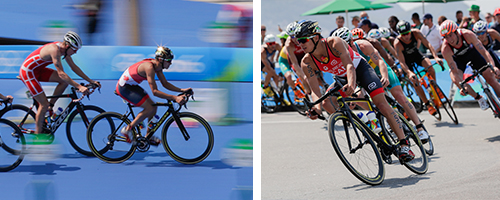 The first-time Olympian was the youngest triathlete on the challenging course in Rio. After battling through high surf in the ocean swim, Tyler came out of the water 19th and had a good transition, leaving him 17th starting the bike portion. He narrowly missed latching on to the tail-end of the lead group, and was not able to close the gap. Instead, he led the chase group for most of the race.
Mislawchuk said he was happy with the effort. "I gave absolutely everything I had. It's hard to take in right now. It's a big emotional build-up and I'm just happy to be done the race… I was working pretty hard the whole ride. There were only five or six of us working out of that big group which was a bit frustrating because who knows what we could have done if we were better organized… But this is the Olympic race. I didn't want to sit in for 20th spot. I wanted to put it all out there and that's what I did today."
Asked about Tyler, Triathlon Canada CEO Tim Wilson said, "I don't think this gentleman's going to go away. He's a young kid who's come from nowhere very quickly. He's got the potential to go all the way. What he needs now is the support."
Watch Sarah-Anne Brault in Women's Triathlon tomorrow! Saturday, Aug 20 at 9 a.m. CT
---
Desiree Scott & Sophie Schmidt – Women's Soccer
The Canadian Women's soccer team will leave Rio on a high note, taking home the bronze medal this afternoon against host nation Brazil. Canada won 2-1 in a battle which one commentator called "a real test of Canada's defensive nerve."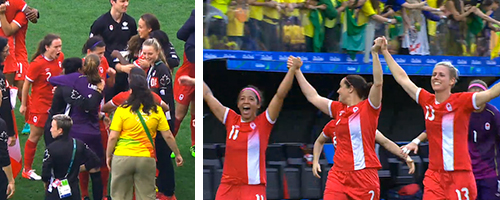 Following Tuesday's devastating loss to Germany which kept them out of the gold medal game, the Canadian women were able to re-focus their efforts and rise to the challenge today. For many players, including Manitoba-born Sophie Schmidt and Desiree Scott, this is a repeat of the team's bronze-medal win in London in 2012.
As of now, Canada's medal count stands at 21 (14 bronze, three silver and four gold).
-30-
About CSCM: 
The Canadian Sport Centre Manitoba (CSCM) was created as one of the many legacies of the 1999 Pan American Games held in Winnipeg. Today, CSCM is the hub for high performance sport in Manitoba. A proud member of the Olympic and Paralympic Sport Institute Network, CSCM works to provide a world-class, multi-sport daily training environment for athletes and coaches through integrated services and programs in the fields of physiology, strength and conditioning, nutrition, psychology and support services.
For more information, contact:
Jeff Powell
General Manager, Canadian Sport Centre Manitoba
Direct Line: 204.474.7148 | Email: media@cscm.ca