Chantal Van Landeghem
On the first night of the Rio Games, Canada's 4x100m freestyle relay team took home the country's first medal of the XXXI Olympiad.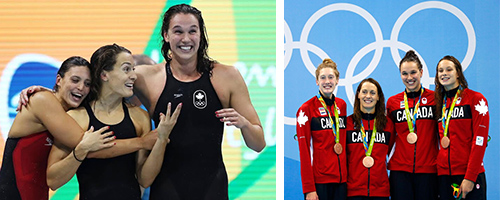 In the heats, Winnipeg's Chantal Van Landeghem swam the fastest split of the four Canadians, putting them in position to break a Canadian record, and the fifth fastest time heading into the final. The record was short lived, as team broke it again just hours later, holding off an incredibly strong team from the Netherlands to capture Olympic bronze. "I think we surprised a lot of people, but we didn't surprise ourselves," said Van Landeghem. The team proved to Canadians and to the world that our nation's top female swimmers are on the rise, and are a force to be reckoned with. Chantal Van Landeghem became an Olympic medallist in her first-ever Olympic event, and is hungry for more.
Competition Schedule
Wednesday, Aug 10 – 11:02 a.m. CT – Women's 100m freestyle heats
Friday, Aug 12 – 11:02 a.m. CT – Women's 50m freestyle heats
---
Justin Duff & TJ Sanders 
The Canadian Men's Volleyball team played their first Olympic match in 24 years on Sunday, and re-entered the Games magnificently.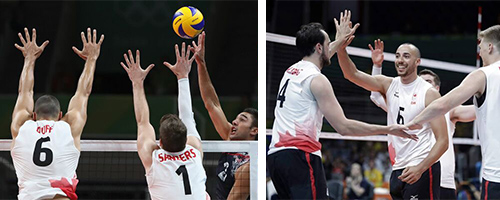 The men's team swept the dominant American team three sets to none, for the first time ever in Olympic history. The team was one of the last to qualify for the games, and the impressive display in their opener is only the beginning of a difficult schedule for Canada. Former Bison TJ Sanders and Winnipeg's Justin Duff helped the team to victory with Duff putting up several impressive blocks. The men's team has shown they're serious Olympic contenders, but have much left to prove. The team has four more games in the group stage before moving onward in the tournament. Next up is host country Brazil, who has won a medal in every major tournament in the last 15 years.
Competition Schedule 
Tuesday, Aug 9 – 8:35 p.m. CT – vs. Brazil
Thursday, Aug 11 – 3:05 p.m. CT – vs. France
Saturday, Aug 13 – 6:30 p.m. CT – vs. Mexico
Monday, Aug 15 – 6:30 p.m. CT – vs. Italy
---
Sophie Schmidt & Desiree Scott
The Canadian Women's National Team (or CanWNT for short) proved they're back and ready to go for gold in this year's Olympic Games.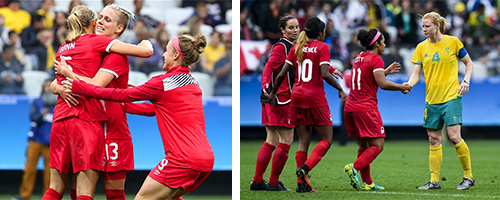 The team upset soccer powerhouse Australia in their tournament opener last week. "It took every inch of us and every bit of our energy to get that [win]," said Winnipegger Desiree Scott. The women went on to beat Zimbabwe handily on Saturday. Winning their first two games of the tournament was crucial for Canada, as they set their stage for the remainder of the tournament. Canada will advance to the quarter-finals which start on Friday, but first they take on Germany in their last qualifying match.
Competition Schedule
Tuesday, Aug 9 – 2 p.m. CT – qualifying vs. Germany
Friday, Aug 12 – to be determined – quarter-finals
---
Bela Onsyhko 

While Canada's Women's Gymnastics team failed to proceed to the all-around team final, Brandon's Isabela Onyshko rose to the challenge.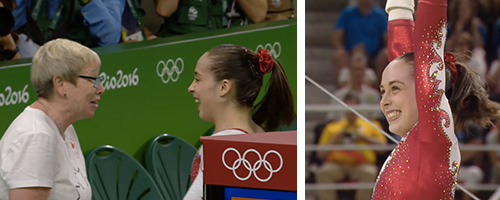 Isabela executed all four of her apparatus events with precision and consistency, and will move on to compete in finals in both the individual all-around event, and the beam event. Bela will compete alongside Halifax's Ellie Black in the all-around final, while she and 16-year-old Shallon Olsen will each advance to an apparatus final: Shallon on the vault, and Bela on beam. Both girls made their Olympic debuts in Rio on Sunday. Bela will enter both the all-around and the beam final ranked 10th. The rising star has already proven she belongs in Rio, and will compete on Thursday afternoon as one of the world's best.
Competition Schedule
Thursday, Aug 11 – 2 p.m. CT – individual all-around final
Monday, Aug 15 – 1:46 p.m. CT – beam final
---
Leah Kirchmann
Leah Kirchmann raced in her first Olympic Games on Sunday, finishing 38th overall after battling the grueling 139 km Rio road race course.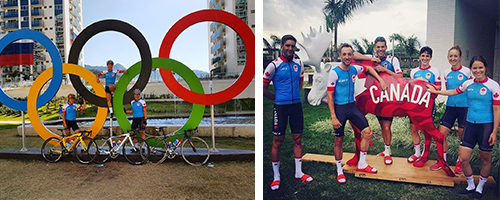 Kirchmann said she "wasn't feeling amazing" after the first few climbs, and ultimately the course got the best of her. Leah isn't dwelling on the result, but instead is looking forward. "This has left me even more motivated looking to the future and hopefully riding in future Games." Jacques Landry, Cycling Canada's Head Coach, said in several statements that Leah's performance and development is on the rise, and Cycling Canada has high hopes for her through the next Olympiad and into the 2020 Tokyo Games.
-30-
About CSCM: 
The Canadian Sport Centre Manitoba (CSCM) was created as one of the many legacies of the 1999 Pan American Games held in Winnipeg. Today, CSCM is the hub for high performance sport in Manitoba. A proud member of the Olympic and Paralympic Sport Institute Network, CSCM works to provide a world-class, multi-sport daily training environment for athletes and coaches through integrated services and programs in the fields of physiology, strength and conditioning, nutrition, psychology and support services.
For more information, contact:
Jeff Powell
General Manager, Canadian Sport Centre Manitoba
Direct Line: 204.474.7148 | Email: media@cscm.ca