The Waiting Game for Rio Hopefuls
Winnipeg, MB – After successful international competitions earlier this month, Manitoban triathletes Tyler Mislawchuk and Chantal Givens have both made great progress toward securing their spots in Rio. While Givens still has some time before the end of the Paralympic qualification period, for Mislawchuck, there's nothing left to do now but wait.
As he expressed in a tweet following his 10th place finish in Yokohama, Japan, "Race done. Olympic qualification period done. Body done. Now we wait." According to Triathlon Canada, nominated team members will officially be announced on June 9 in partnership with the Canadian Olympic Committee. Para-triathletes like Givens will have to wait a bit longer, as the Paralympic qualification period ends June 30. Nominated team members will be announced before July 15, and those names will be forwarded to the Canadian Paralympic Committee for ratification August 1.
Both athletes have good reason to keep their hopes high for Rio.
Mislawchuk clocked a time of 1:47:15 in Yokohama, matching his career best finish in a World Triathlon Series race and leaving him ranked eighth in the world. In a press release following the event, the NSO noted that "the future of Canada's men's triathlon is no doubt in the hands of a youngster from Oak Bluff, Man., Tyler Mislawchuk." The 21-year-old said, "The Games have been a dream of mine ever since I was a kid. I hope I have done enough to make my dream a reality. Time will tell."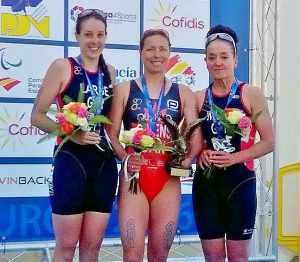 At a World Para-Triathlon Event (WTE) in Aguilas, Spain, Givens placed first in the women's PT4 classification with a time of 1:15:09 – despite tougher than usual conditions. While the two-time Canadian Champion is no stranger to a podium finish, this marked her first career WTE gold. Pleased with her performance, Givens said, "I executed a solid, smooth race. I came into the race feeling strong, with a good balance of rest and training, and executed my plan." Triathlon Canada noted that, with her results, "she all but officially sealed a spot on the start line when para-triathlon makes its Paralympic debut in Rio this fall."
-30-
About CSCM: 
The Canadian Sport Centre Manitoba (CSCM) was created as one of the many legacies of the 1999 Pan American Games held in Winnipeg. Today, CSCM is the hub for high performance sport in Manitoba. A proud member of the Canadian Olympic and Paralympic Sport Institute Network, CSCM works to provide a world-class, multi-sport daily training environment for athletes and coaches through integrated services and programs in the fields of physiology, strength and conditioning, nutrition, psychology and support services.
For more information, contact:
Jeff Powell
General Manager, Canadian Sport Centre Manitoba
Direct Line: 204.474.7148 | Email: media@cscm.ca